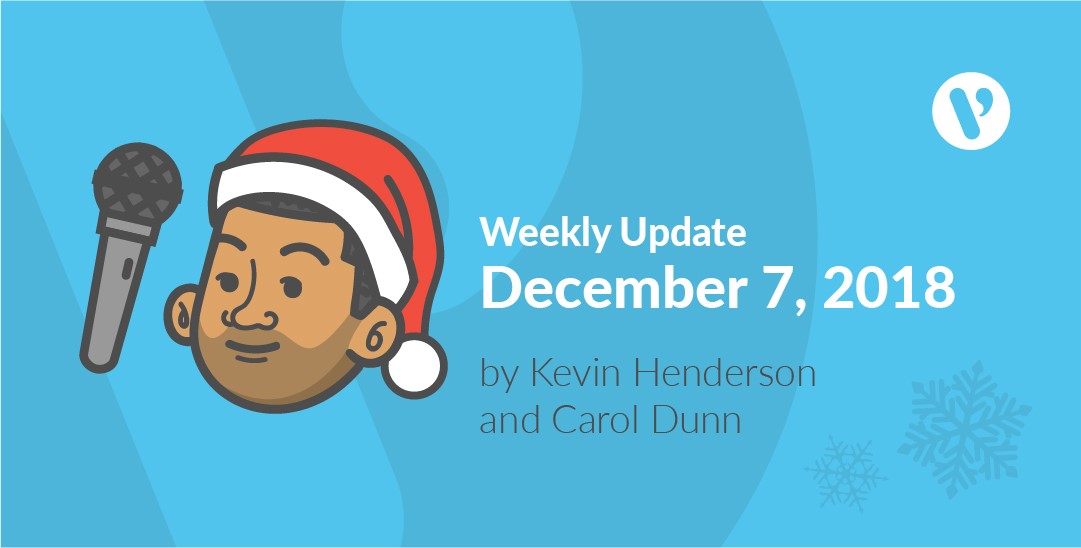 The gift of giving
As a result of the efforts of Velsoft's Chief Happiness Officer Michael and his friends, 31 children will have a better Christmas this year.
Michael and his friend Jay Perrier have organized Rappin' Gifts annually for five years, and funds raised from the hip hop concert series are donated to Christmas Daddies. That non-profit organization provides gifts and food to less fortunate families so they can have a Merry Christmas.
This year Rappin' Gifts raised $3,110 from four concerts held over two weekends in November — in Sydney, Truro, Moncton, and Halifax — raising a total of almost $12,000 since they began organizing the concerts in 2014.
"It's nice to do something to give back," says Michael. "It's fun and it's such a good cause."
All of the performers volunteer their time, with different artists at each venue, which makes each show unique. They have shows in a variety of locations because the money raised goes back to the community where it was raised. This is the first time Rappin' Gifts shows were held in Moncton and Truro.
"One of the coolest things is to see the other artists gets excited about doing this too," says Michael. "They get to promote their art and give everyone a good time and help kids along the way."
Michael says he is fortunate that he's able to help raise funds to make Christmas better for others. "I feel like we're lucky we get to do this."
He adds that Christmas can be a stressful time of year for those who are struggling financially, and it feels good to be able to help make it a magical time instead.
As a bonus, he says it's fun to work with his friend to accomplish this goal together.
For Michael, the Christmas Daddies Telethon always kicked off the Christmas season, as his family would decorate and drink hot chocolate as they watched the show on TV.
He didn't find out until he was older that he was also a beneficiary of funds raised during the telethon. When he was about six years old, he received an art easel board as a result of Christmas Daddies assistance, and he remembers it as one of his favorite childhood Christmases.
He believes in giving what you get, and says being able to give back to a charity that he benefited from as a child feeds into that circle.
As fathers, Michael and Jay say they couldn't imagine their children waking up on the morning of Dec. 25 without presents or a not having a Christmas meal to celebrate the special occasion.
Michael and Jay presented their contribution during the 55th annual Christmas Daddies Telethon, which took place on Dec. 1 in Halifax. A total of $427,000 was pledged by generous Maritimers during the broadcast.
What's in the Pipeline
Sydney is creating custom eLearning courses.
Ben is working on custom projects.
Dylan is creating graphics for custom and internal customers.
Carol is editing new courses and writing blogs.
Jan is working on CA course components and eLearning QA.
Course Count
Courses released this month:
Here is the official count of courses for both courseware and eLearning:
| | | | |
| --- | --- | --- | --- |
| | Computer | SoftSkills | Total Courses |
| Courseware | 287 | 176 | 463 |
| eLearning | 937 | 175 | 1112 |
History of the Christmas Daddies Telethon:
The staff of CTV in Halifax, Moncton and Sydney volunteer to produce the telethon with help from their family and friends.
About 250 people donate their time and services to make the telethon possible.
Everyone who participates is a volunteer – from the people in front of the camera those who take pledges on the phones.
The telethon is broadcast live each year in early December and features a variety of performers who sing and dance.
The first Christmas Daddies Telethon took place in 1964, making it one of the longest running telethons in North America.
A grand total of more than $31 million has been raised since the telethon began.
The funds raised each year are distributed through The Salvation Army.
The idea for the Christmas Daddies telethon was born after Jim Hill Sr. and Jack Dalton, who worked at CJCH television and radio saw an eight-year-old boy panhandling at a Halifax tavern because his mother and baby sister didn't have any food. After a hat was passed around the tavern, collecting $15 for the boy, the two men wondered what the family would do for Christmas.
The first telethon raised $1,500.