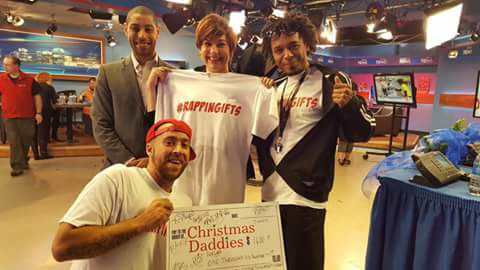 Rappin' Gifts for Christmas Daddies
When Michael Harding started out to raise funds for children in need, he didn't know his family had once benefitted from the same spirit of giving.
The Chief Happiness Officer at Velsoft Training Materials is one of the organizers of Rappin' Gifts, a hip hop concert series that donates all proceeds to the Christmas Daddies. That not-for-profit organization holds a telethon each December to provide less fortunate children in the Maritime provinces of Canada with gifts at Christmas, including toys and food.
"When I was growing up, Christmas Daddies was the start of the holidays. It wasn't until I was older that I found out we had a couple of Christmas Daddies Christmasses."
Harding says choosing the charity to receive the funds from Rappin' Gifts was a "perfect turn of events. I have this opportunity to give back to something that gave to me, that I wasn't aware of at the time."
He said he's happy to be giving back to families that are struggling financially. Started in 2014, the events have raised a total of $8,600 over four years.
The idea for Rappin' Gifts was born when Harding's friend and hip hop artist Jay Perrier of Halifax wanted to host his first live performance. For his inaugural show, he wanted to give back to the community, and the two brainstormed about which charity to support. They chose Christmas Daddies because giving to children appealed to them, and because the telethon was taking place soon after the planned show date.
The first year Rappin' Gifts featured 15 different artists and was held in Dartmouth, Nova Scotia. In the years since, each show has included six to eight performers and they've also held shows in New Glasgow, Halifax and Cape Breton. This year's Rappin' Gifts shows are taking place in Cape Breton at Duke's place on Nov. 16, in Truro at Julia's Lounge on Nov. 17, in Moncton at The Hub on Nov. 23, and in Halifax at The Carleton on Nov. 24.
Harding says they've chosen to perform in different places because the funds raised stay in the communities where the shows are held. As well, they like to try to bring hip hop music to new people.
In the same vein, introducing the Christmas Daddies audience to hip hop music is a bonus. "I like to think representing hip hop at the telethon is breaking down a few barriers," he says, noting that the younger people who listen to the genre may not be as familiar with the Christmas Daddies as older people.
But in the end, the main reason Harding devotes his time to the cause is to help others. "It's awesome. It just feels really good to have an opportunity to give back in some manner."
He enjoys volunteering — along with organizing and advertising the shows, he carries out hosting duties and sells tickets at the door — and says that's the reward.
"It's cool when we're finished that it has been a benefit to someone else. No thanks are needed, we do it to benefit others and have fun ourselves along the way."
The CTV Christmas Daddies Telethon airs on Dec. 1.