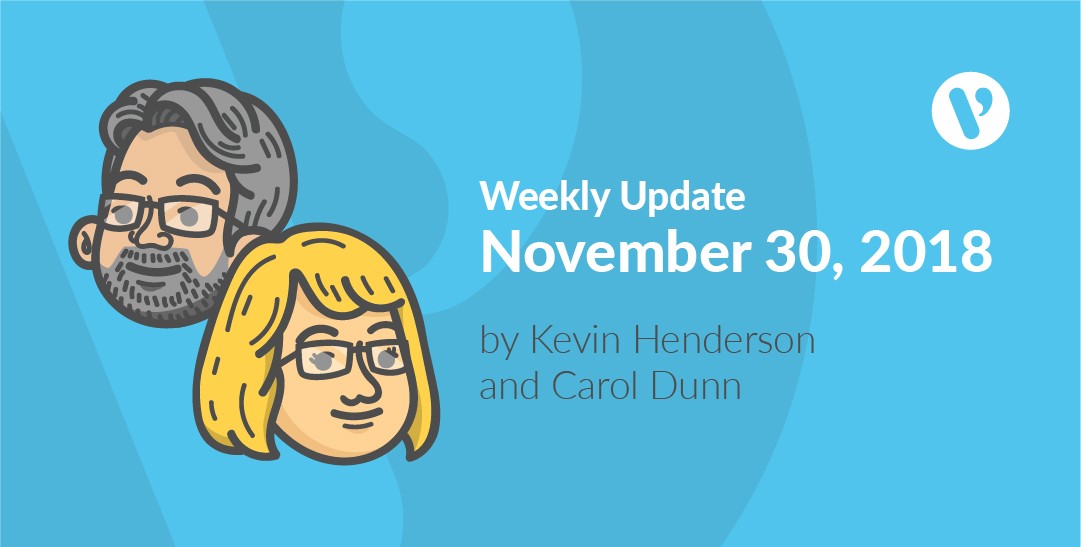 Getting to Know the designers at Velsoft
This Weekly Update takes a look at the people responsible for making our products and communication look so good —our design department.
Dylan Langille
Dylan is Velsoft's multimedia developer, which means that he does graphic design – creating designs for promotional materials, courses and custom projects. As well, he does videography, creating short videos for social media (Velsoft Goes Clean Gets Green; Captain, Captain, Captain; and The Office) and animated videos.
He's worked here for just over a year, coming to Velsoft from Fundy Textile and Design. He studied graphic and print production and graphic design at NSCC, and has won multiple medals at the Skills Nova Scotia and Skills Canada competitions for graphic design. Skills Canada is an annual national skilled trade and technology competition for students and apprentices from across the country.
Fun facts about Dylan:
His favorite bands are The White Stripes, Architects, and Dance Gavin Dance.
The weirdest thing that's ever happened to him was having a 'balloon' surgically put under his scalp so doctors could fill it with saline solution every couple weeks to stretch it over a period of three months, which allowed them to take this expanded scalp/hair and cover a bald spot on the crown of his head that he was born with. He has an eight-inch scar on his head from the procedure, and the swelling after surgery made him look like an alien for a day! We're glad his audition for The X-Files didn't work out, otherwise he might not be working here…
His hobbies include running two side businesses — Broken Star Productions (freelance graphic design and videography) and Broke Apparel (a brand he created to support and encourage entrepreneurship). He enjoys having creative control and learning new things along the way.
If money wasn't a consideration, he says he would travel all around the world taking pictures and video just to experience all the sights the world has to offer and to learn about different cultures. He would also go back to college and take as many classes as he could just to have a wide array of skills.
Something most people are surprised to learn about Dylan is that he has been on a competitive Tug-of-war team for close to 15 years.
John Cockcroft
John has been an employee of Velsoft for about seven and a half years, although he worked with CEO Jim Fitt before he was added to the payroll.
He is an illustrator, creating images for various projects and keeping the course covers up to date.
John works part-time from his home (which is why we rarely see him around the office!) and took a bit of an unusual route to employment at Velsoft. He says he always had an interest in drawing and painting, and spent a year in Sydney, Cape Breton learning how to paint signs and then went to work at a sign company in New Brunswick. When that company went out of business, he worked for 18 years as a mechanic at Michelin. After taking a buy-out package, he worked with a local sports newspaper for a year before coming to work here.
Fun facts about John:
The most interesting place he has visited is France, actually living there for a year when he was 15 years old while his father was training with Michelin. The family lived in a small village called Romagnat, outside of Clermont Ferrand.
His most treasured possession is his dog Ozzy, who he says is his most loyal companion. We wonder, does he also have a cat named Osbourne?
If he could only eat one food for the rest of his life, he would choose pizza.
If he could change his name, he would shorten his last name to Croft or Cook, as he says each one would be easier to spell.
The weirdest thing that has ever happened to him occurred when he was in the kitchen making a late-night snack. Through the corner of his eye he could see someone standing in the room, but he said when he turned to look, it was gone. "I swear to this day there was someone there," he says. And he insists it had nothing to do with binge-watching The X-Files that day.
What's in the Pipeline
Ben is working on custom projects.
Jan is working on CA course components and eLearning QA.
Dylan is creating graphics for custom and internal customers.
Sydney is creating custom eLearning courses.
Carol is writing blogs, and editing new courses and refreshing older courses.
Tech Topics
Going forward, we will be posting notifications prior to any scheduled releases and maintenance to the znanja platform. This update gives us the ability to display notifications on the login page and as a banner across the top of the entire platform.
The purpose of this is to inform all users (administrators and students) in advance of any scheduled releases or maintenance. We will be sharing more information on this following this release.
Notifications now have a publication date field. This allows you to change the date and time of a notification. This also allows you to schedule notifications in advance by setting the publication date to some date in the future. A notification will be hidden from students until its publication date passes.
A rich-text editor has been added when editing notifications. This allows you to easily apply formatting to a notification's message.
This update also includes a number of bug fixes and minor visual improvements to the Notification Center.
Course Count
Courses released this month:
Here is the official count of courses for both courseware and eLearning:
| | | | |
| --- | --- | --- | --- |
| | Computer | SoftSkills | Total Courses |
| Courseware | 286 | 175 | 459 |
| eLearning | 937 | 175 | 1112 |