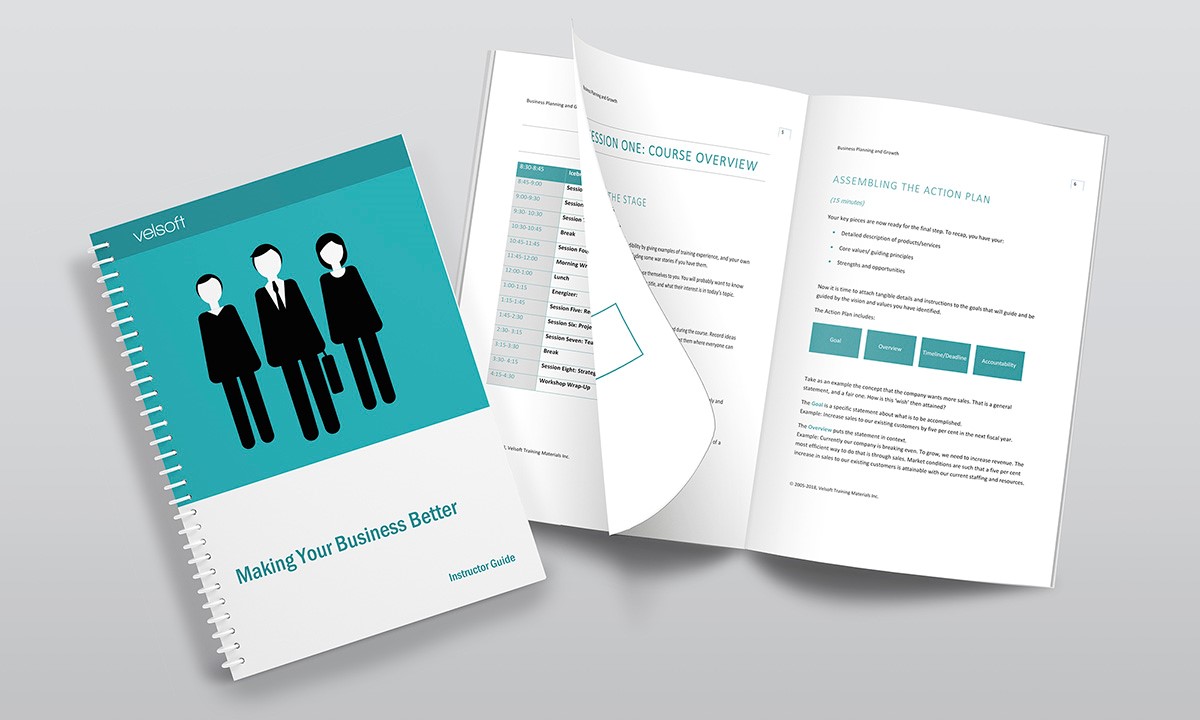 A new look and 9 reasons to welcome change
"This is a new year. A new beginning. And things will change." ― Taylor Swift
At Velsoft, we've taken these words from award-winning singer-songwriter Taylor Swift to heart. And as 2018 is set to begin, we've altered the appearance of our Instructor-Led Training courses.
Those of you familiar with our courses will notice new colours introduced, along with a different look for the agenda. We've also added more visual elements, and made the pages easier to print by removing the colour shading from the Trainer's Tips and Activity Idea boxes. As part of the new design, additional white space has also been included to make the courses easier to read.
We're always looking for ways to make our training materials the best they can be for our customers, and we think these improvements achieve that.
What hasn't changed is the content of the courses, which is still the same high-quality, customizable courseware that provides trainers and human resources professionals with everything needed to teach amazing classes. All of our more than 400 courses have the ability to be fully edited, and all of the features you trust have been retained, including Ice Breakers and Energizers, as well as the basic course format.
In the spirit of embracing change, we offer nine reasons why change is a good thing.
It pushes you out of your comfort zone, often leading to fun and adventure.
It offers new experiences and opportunities, which can inspire progress and improvements.
Challenging yourself makes you more open to learning new ways of approaching situations.
It makes you more flexible and adaptable, and in turn, more positive.
It helps you to grow into a more well-rounded and balanced person.
It can reveal your strengths, and you may become stronger through adversity and dealing with challenging tasks.
It makes you more compassionate.
Change can get you out of a rut by breaking up routines.
It keeps things interesting!
We're introducing the updated look with January's two new offerings: Making Your Business Better (softskills) and Slack for Business (computer).
We hope you like the fresh appearance of the courses. Happy Holidays and Happy New Year from Velsoft Training Materials!