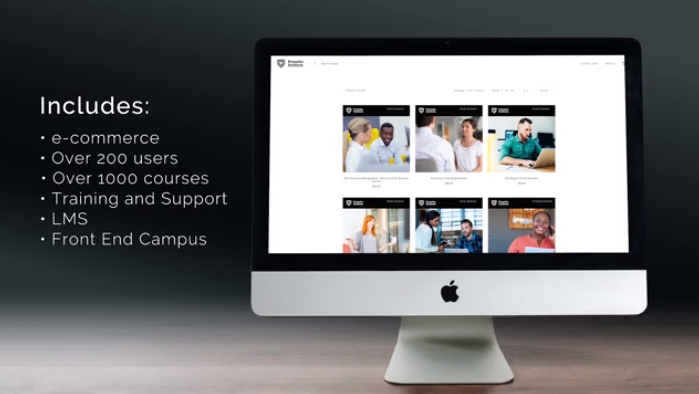 Training during a pandemic
On March 11, 2020, the World Health Organization classified COVID-19 as a pandemic, and our world changed. While different jurisdictions have reacted in a variety of ways, the WHO advised that among other measures to protect against contracting the virus, people should practice social distancing. And this has impacted businesses and organizations that provide training, as now in-person sessions are no longer permitted in many places.
One way that training is continuing during this time is through online means, and this can involve a virtual campus.
What is a virtual campus?
A Velsoft Virtual Campus brings together a learning management system (LMS) and eCommerce. In other words, it's an online way to sell courses that are available through the LMS.
For many trainers – in-house and external — this is a solution that allows you to continue providing training during this pandemic. Because the need for training hasn't gone away – it's still necessary even during these times.
With the circumstances arising from the COVID-19 pandemic, the way training is being provided shifted almost overnight. This left many organizations scrambling to provide online options. A virtual campus is a potential solution, as it is effectively a storefront paired with an LMS that enables trainers to sell their courses online.
As organizations that need to deliver training to their staff look to their training provider partners to help them navigate this new situation, this is a quick and easy way for trainers to get courses into the hands of their clients. A virtual campus enables trainers to sell courses online, as quickly and easily as buying a hat or a t-shirt.
How Velsoft Can Help
Velsoft's Virtual Campus supplies course creation tools along with instant access to a large library of content. This allows trainers to begin selling courses immediately or to easily create their own courses. The conversion and authoring tools enables trainers to quickly and effortlessly create new content.
Because Velsoft is committed to making sure training and development continues, new solutions and technologies have been introduced. These include the ability to offer instructor-led training materials through webinar or remote training, and the ability to conduct virtual classes through Velsoft's znanja LMS. This involves scheduling, managing and hosting live classes online.
This has permitted Velsoft customers who have successfully integrated these solutions to provide the leadership and authority their stakeholders need and expect.
During these challenging times, training doesn't have to stop. But in many cases, it does have to be provided in a different way, and Velsoft is committed to making sure training can still take place.
Sign up for an LMS trial at www.znanja.com/trial.