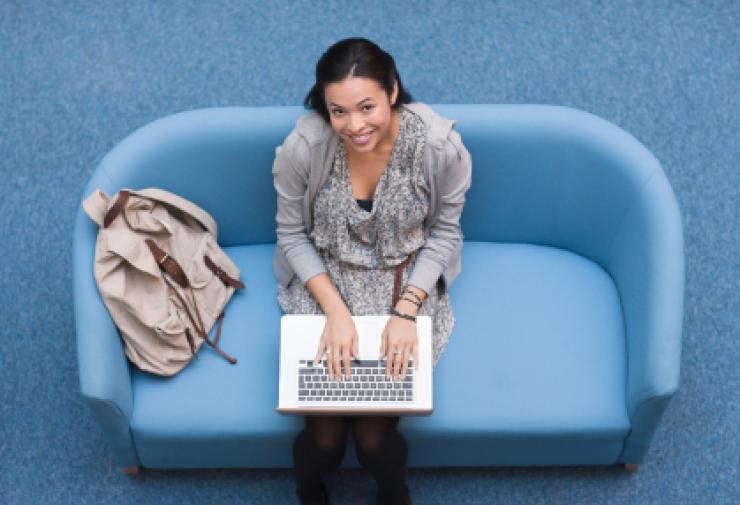 Getting Started with Microsoft Windows 10: May 2019 Update
TOPIC A: What is New?
This course is designed to help in getting started with the Microsoft Windows 10: May 2019 Update. Microsoft Windows 10 is a powerful and easy-to-use operating system. Nearly everyone who works with computers in some capacity has likely used Windows 10 or an earlier version of this software. The May 2019 update builds on this software to introduce new features while refining others. While the complete list of changes that are included with this update is extensive, by the end of this course you will be familiar with the major updates and be able to use them to improve your workflow and productivity.
Topic Objectives
In this topic, you will learn:
What Windows 10 is
What the Windows 10 May 2019 Update is
How to install the May 2019 Update
What is Windows 10?
It is important to understand that Windows 10 is an operating system (OS). An OS is complex software that runs on your personal computer's hardware. This provides a user interface that you can use to interact with the computer itself and run application software. Additionally, an OS manages your computer's resources (memory, processing power, networking, etc.) so that you can utilize them much more easily than would otherwise be possible.
Several different operating systems are available, including Microsoft Windows, Apple OS X, Linux, and other more specialized products. In today's business environment, you will likely find that Microsoft Windows is by far the most commonly used operating system. This is followed distantly by Apple OS X and Linux.
It is important to note that Microsoft Windows branding includes several different versions of the same operating system. For example, while this course focuses on Windows 10 and the May 2019 update, you may run into Windows 8, Windows 7, Windows Vista, and even Windows XP. However, older versions of Windows will become less common as Windows 10 continues to be adopted.
What is the Windows 10 May 2019 Update?
Microsoft is continuously developing Windows 10 to meet the changing needs of its users and to improve stability, security, and performance. Microsoft passes some of these changes on to users through software patches. These can be large or small updates that are downloaded and installed to your computer — usually this process is automatic. Regular security and critical stability updates are made available the second or fourth Tuesday of every month. These address issues that cannot wait for the larger updates.
Instructor Tip: "Patch Tuesday" is the unofficial term that refers to when Microsoft regularly issues security patches.
New versions of Windows 10 are released twice a year and are referred to as feature updates. These are large updates that typically focus on adding new features and updating existing ones. They also make broader changes to improve stability and strengthen security.
The May 2019 Update is a feature update. As the spring release, it includes many improvements to the overall design and operation of Windows 10.
Instructor Tip: The Windows 10 May 2019 Update updates the Windows 10 version to 1903 from 1809. The first two digits of these numbers represent the year the code was finalized, while the next two show the month. For example, 1903 means that this update was completed in March of 2019. The development codename of this update is 19H1, which indicates the first half of 2019 to make available to the public.
Major New Features
As with every new version of Windows 10, this feature update includes several major new features of which to be aware. All of these and more will be discussed in more detail later in this course.
Updated Start Menu
Introduction of the "Light" theme
Separation of Cortana and Windows Search functionality
Changes to how Windows Updates behaves and operates
Changes to the Action Center
Redesigned storage settings
Improved error messages and troubleshooting
Various Windows security improvements
Updates to the Settings app
Instructor Tip: There are hundreds of smaller changes that are not represented in the list above. While every effort has been made to cover the most significant and user-impacting changes made by this update, not every change is discussed.
Requirements
This new feature update should install without any issue on devices that are already running Windows 10, but there are some new storage requirements. The minimum hardware requirements include the following:
Processor: 1GHz or faster CPU or System on a Chip (SoC).
Memory: 1GB for 32-bit or 2GB for 64-bit.
Hard drive space: 32GB for 64-bit or 32-bit.
Graphics: DirectX 9 or later with WDDM 1.0 driver.
Display: 800×600.
TOPIC B: Updating Windows 10
To get started with the Windows 10 May 2019 Update, it must first be downloaded and installed. This topic describes the Windows 10 Update tool and how to use it to download and install this new update.
Topic Objectives
In this topic, you will learn:
About Windows Update
How to check for the Windows 10 May 2019 Update
How to install the Windows 10 May 2019 Update
About Windows Update
No matter the version of Windows 10, the Windows Update tool is used to download and install updates with little to no input required. While the default settings mean that this tool usually operates automatically in the background, you can also access its controls through the Settings app by clicking the Update & Security option: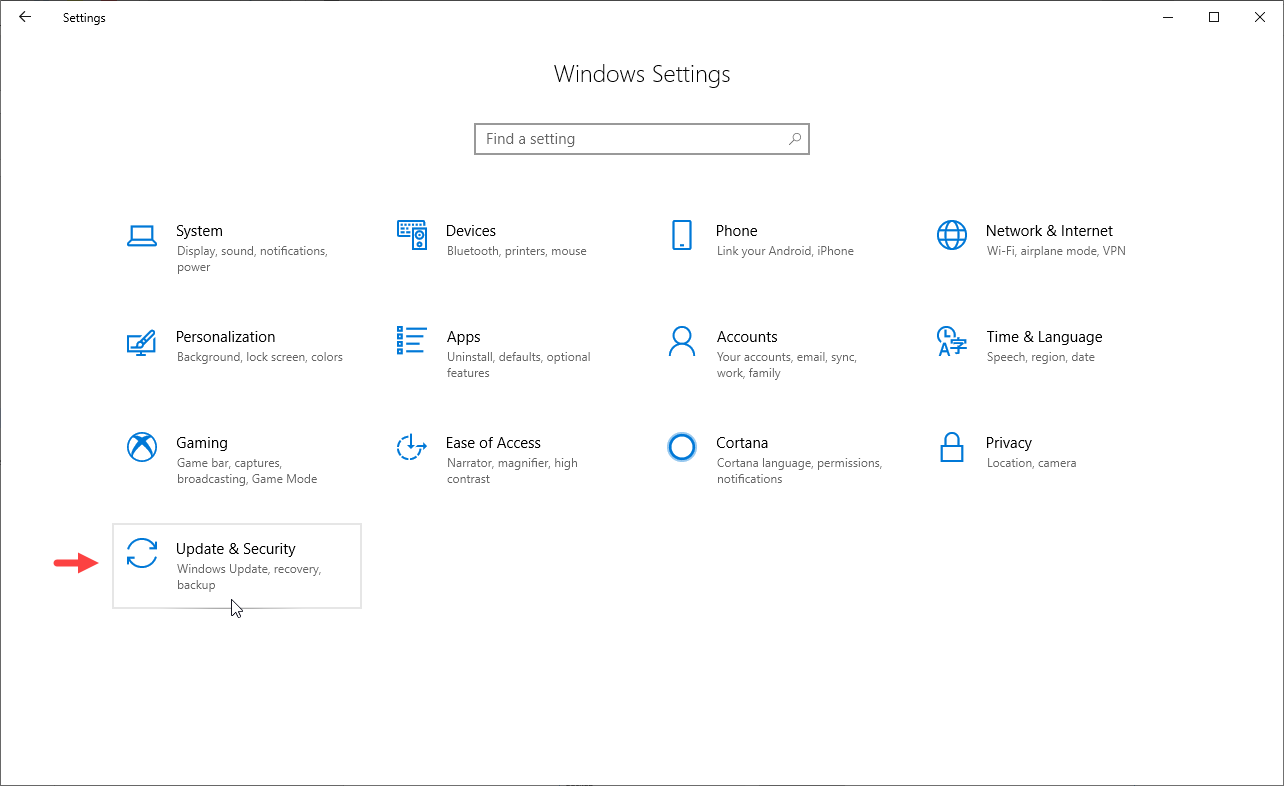 Instructor Tip: The Windows 10 May 2019 Update will initially require the user to choose to install it. It will automatically initiate a new feature update if the version of Windows 10 is nearing the end of support.
With the Windows Update tool open, any updates that may be waiting to be installed will be listed. It will also show when the last updates check was, as well as provide access to the various options that control updates: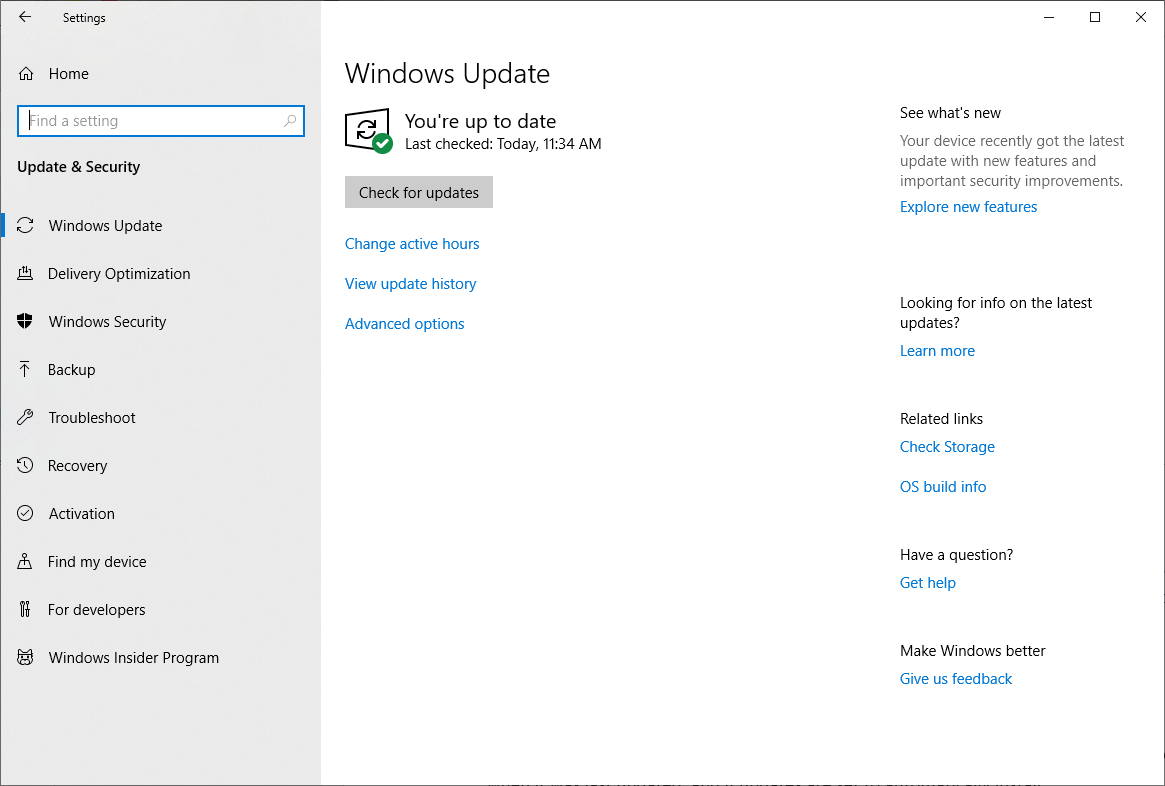 Instructor Tip: For users that are part of an organization, update availability may be controlled by the system administrator. This can mean that updates are delayed and are unavailable to those users even if the update is already available to the general public. In such cases, these updates are usually made available later.
Checking for Updates
With Windows Update displayed, you will be able to see if your PC is up-to-date or if updates are ready to be installed the next time that you restart your computer. To manually check for new updates, click Check for updates.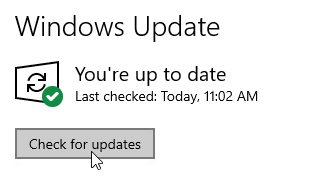 If new updates are found, they will be downloaded and installed. Some updates, such as the May 2019 Update, require the computer to be restarted to complete the installation.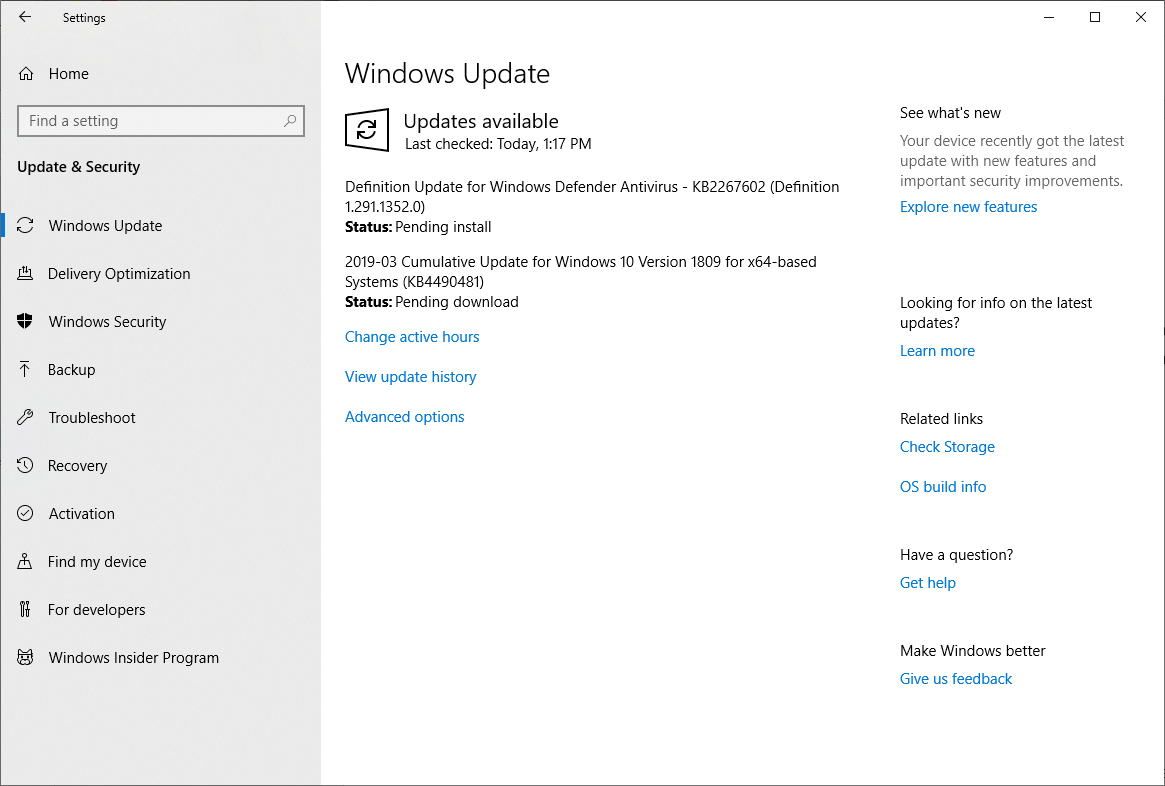 If you are using the 1803 or 1809 version of Windows, the May 2019 update is being made available a little differently than previous feature updates. Rather than being automatically downloaded and installed, it instead provides users a separate control to initiate its installation. This means that when the update is available, this new "download and install" option appears just below the Check for updates button: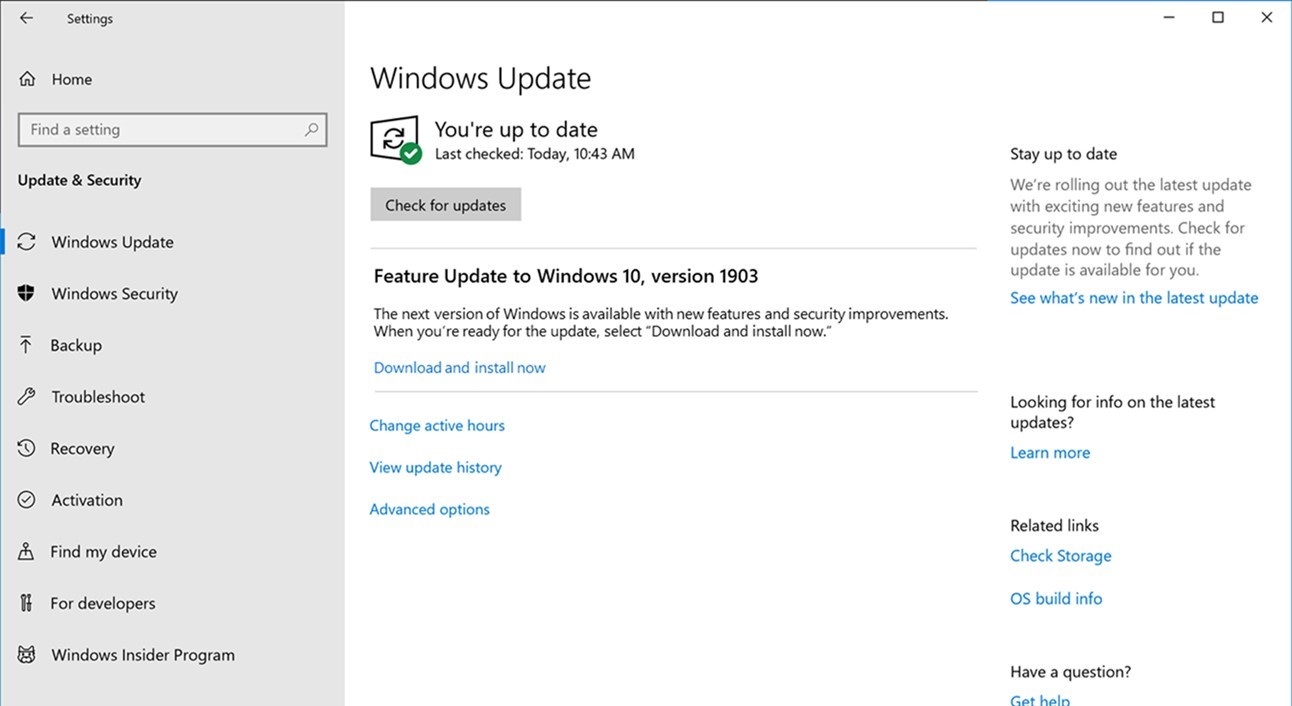 Instructor Tip: To check the version of Windows 10 that your computer is using, click Start. Type "run" and press the Enter key. A small Run app window will appear with a text field selected. Type "winver" and press the Enter key. The About Windows dialog window will appear with the version number listed near the top. Most users will be using 1803 or 1809.
Installing the Windows 10 May 2019 Update
To install the May 2019 Update, click Download and install now in the Windows Update tool. This will initiate the download and the initial part of the installation process. When it is ready to be fully installed, it will require you to restart your computer either through regular means or by clicking the Restart now button in the Windows Update tool window:

As the computer restarts, various screens will show its progress. Depending on the computer, this may take some time. It is very important to make sure you do not turn off your PC or restart it while it is in this state.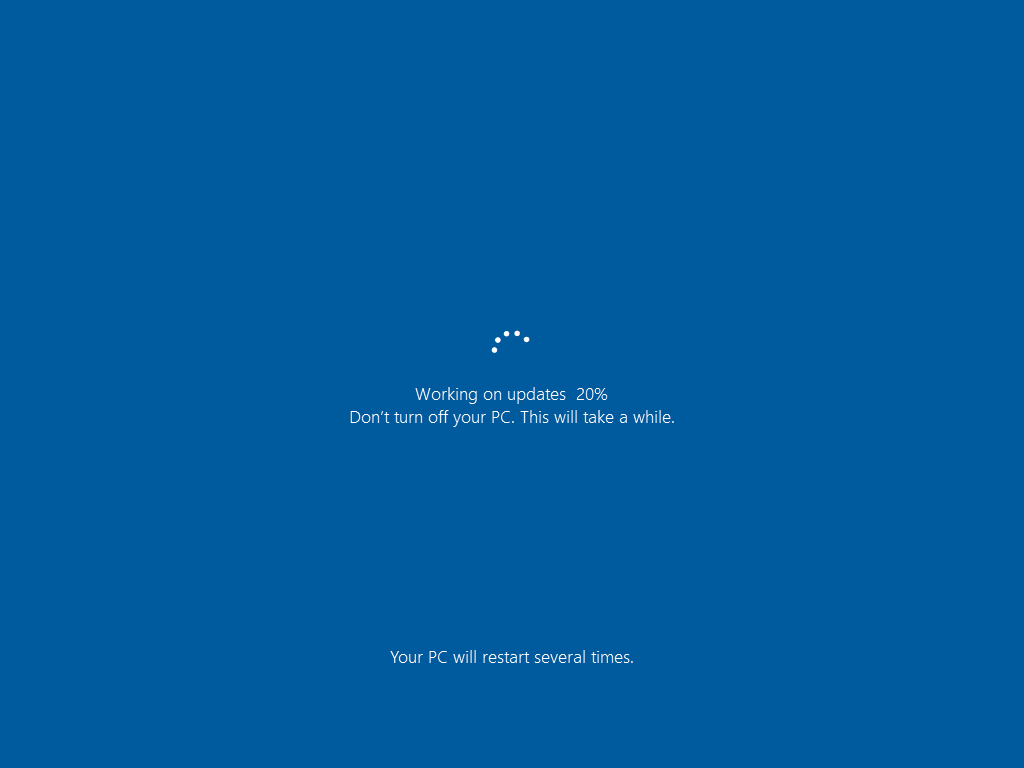 After the process is completed, it may restart again and display the Windows lock screen.
This is an excerpt from Velsoft's latest computer course Microsoft Windows 10: May 2019 Update.