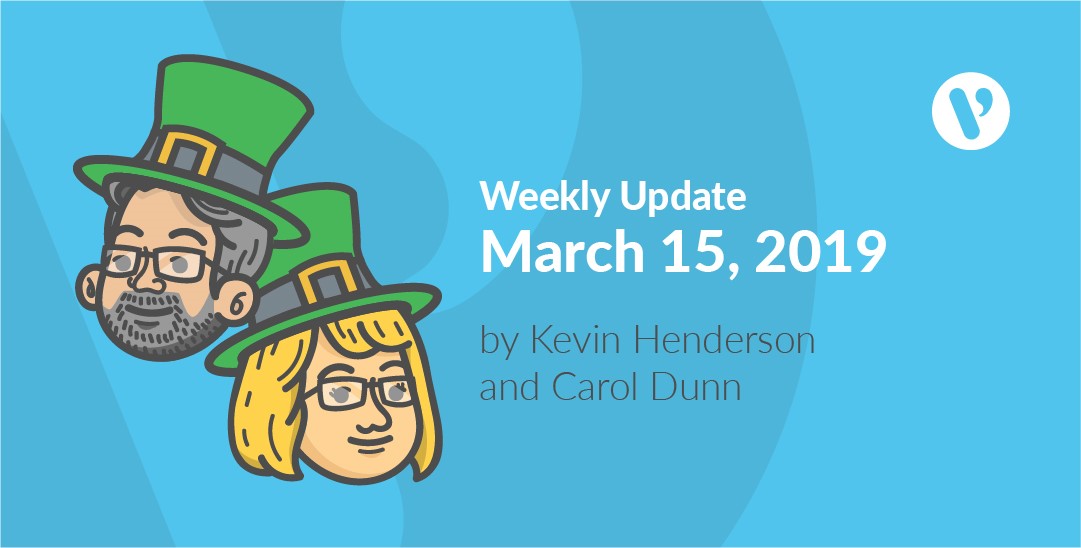 Favorite St. Patrick's Day Festivities of Velsoftians
Last year in honor of St. Patrick's Day, Velsoftians shared their favorite green things. This year I thought it would be interesting to take a look at all of the exciting St. Patrick's Day celebrations that team members have participated in around the world.
| | |
| --- | --- |
| Who | What they loved about the St. Patrick's Day Festivities |
| Sandra | Dubai: Her family spent three days in the Irish Village listening to Irish bands and watching traditional Irish dancers. The kids loved the petting zoo, face painting and bouncy castles. They also stopped by Girders Garden for steak and ale pie and a Baileys cheesecake, which she thought was superb! Then they went to the Dubliner's for Guinness and dancing. |
| Carol | Seoul: Carol and her family attended music concerts (traditional Irish and fusion), and dance performances at the Festival stage. The kids had their faces painted with shamrocks and pots of gold. There were Irish food vendors and a lively after-party. |
| Dylan | Hot Springs, Arkansas: He said the inflatable pop-up pub was unique and fun. He got to meet the world's tallest leprechaun and loved the parade — all 98 feet of the parade route! Kevin Bacon was there too. He knows where to party! |
| Jim | New Glasgow: Jim doesn't really like to travel, so he prefers to put on a green hat and head to The Dock for a night of Irish music, food, and drink. |
| Sydney | Paris: Sydney and her sister listened to live music at the Irish Culture Center on Rue des Irlandais and watched a small parade there, while sampling food from some Irish food vendors. Later they went on a pub crawl of Irish pubs, hitting The Green Linnet, Quiet Man, Kitty O'Shea's, The Green Goose and Corcoran's Irish Pub. The next day they went to Disneyland Paris where there was a huge St. Patrick's Day parade with Mickey and the gang dressed in green, with Irish dancers and green fireworks! |
| Ben | Riverside, California: Ben had corned beef and cabbage and listened to live Irish music followed by karaoke singing (which he won) and a pub crawl! The highlight though was the BeanbagTournament, even though he didn't win. |
| Jimmy | Montserrat, Jimmy went to the Caribbean island for a week-long celebration that also uses the opportunity to educate people about a failed slave revolt. All the bars served Guinness, green Heineken, and traditional rum punch cocktails. He also learned that at one time over half of the island residents were Irish (in the late 1600s). |
| Brandon | New Orleans: Brandon took part in a week and a half of festivities with three parades and two fabulous block parties. |
| Ian | For St. Patrick's Day Ian live streams various parades. He doesn't have a favorite one — he likes them all! |
| Jan | Moscow: Jan and her husband enjoyed Irish music, bagpipes, Guinness, and whiskey at O'Donoghue's. But the highlight was the Punch & Judy Irish puppet theater. People dressed as Vikings was cool too! |
| Cindy | New York: Cindy visited the biggest, oldest parade (since 1762) in the world and consumed a few too many Guinness at McSorley's Old Ale House (The pre-trip to the Flatiron Room for whiskey sampling might not have helped).  Everything was over-the-top. She now wants to go there every year! |
| Dave | Being Irish most would think Dave would say Dublin is where his favourite St. Patrick's Day celebrations take place, but he loves the ones in Munich. He took his brother along, and started the weekend celebration by listening to Celtic music during the day followed by Gaelic Rock at night. They had a great evening at Killan's Irish Pub, eating Irish food and drinking Jameson Whiskey and a few Guinness. On Sunday, they attended Irish Mass, took in the St. Patrick's Day Parade, and then  sampled food from vendors at the Paddy's Street Food Festival. |
| Michael | Durban: He especially liked the free whiskey tasting, Irish dancing, and music. Michael says the obligatory pub crawl with Fun Bus transportation is the way to crawl in style! |
| Scott | Dublin: Ireland has a national holiday for St. Patrick's Day where the whole St. Patrick's Day started (the only other country where this happens is Monserrat). This results in a party with 500,000 people, and they do it right — think about it — every pub there is an Irish Pub (just saying)! Scott and his buddies started with an Irish breakfast of eggs, chewy bacon, sausage, mushrooms, baked beans, grilled tomatoes, black pudding, Irish soda bread (with butter and marmalade) and tea. Then they headed to the parade (early to get to see the whole thing) followed by lunch (bacon and cabbage) and a walk around Dublin (to make room for dinner (Beef and Guinness Pie). They ended the night taking in the entertainment (and liquids) at The Hairy Lemon. |
What's in the Pipeline
Ben is working on custom projects.
Dylan is creating graphics for custom and internal customers.
Jan is working on CA course components and eLearning QA.
Sydney is working on custom projects.
Carol is editing courses, writing blogs, and editing custom projects.
Tech Topics
znanja update:
A new exportable report has been added: the All Enrollments report.
Fixed the wrong custom fields being included when exporting a course report.
Fixed the "report will be emailed to you" message displaying incorrectly when exporting a group course report.
Fixed an error that occurred when exporting a group student report.
Fixed some issues with SCORM courses causing interaction data to not save.
Course Count
Courses released this month:
Here is the official count of courses for both courseware and eLearning:
| | | | |
| --- | --- | --- | --- |
| | Computer | SoftSkills | Total Courses |
| Courseware | 290 | 179 | 469 |
| eLearning | 947 | 178 | 1125 |
St. Patrick's Day facts
Shamrocks
The shamrock is not the official national symbol of Ireland. That honor goes to the harp.
The odds of finding a four-leaf clover are about one in 10,000.
The word "shamrock" comes from the Irish word "seamróg," meaning "little clover."
Snakes
In Irish lore, Saint Patrick drove all the snakes out of Ireland, but there's no evidence that snakes ever existed there because of the cold climate.
Scholars say the term "snakes" may be figurative and refer to pagan religious beliefs and practices rather than reptiles.
Name
St. Patrick's birth name was Maewyn Succat, but he changed it to Patricius after becoming a priest.
Not Irish
Patrick wasn't Irish. He was born in 385 AD to Roman parents in Scotland or Wales in the late fourth century.
Slavery
When he was a teenager, Patrick was captured and taken to Ireland as a slave.
For about six years he herded sheep there, before escaping to England where he became a priest.
He returned to Ireland in his 30s as a missionary to convert Celtic pagans to Christianity.
Pinching
According to legend, wearing green makes a person invisible to leprechauns that will pinch someone if they see them.
Dry times
From 1903 to 1970, St. Patrick's Day was a religious observance for the entire country and all pubs were closed for the day.
The law keeping pubs shut down was overturned in 1970, when St. Patrick's was reclassified as a national holiday.
People drink 13 million glasses of Guinness on St. Patrick's day – twice as many as on a normal day.
Green River
The tradition of dyeing the Chicago River green started with Richard J. Daley, who was mayor of Chicago from 1955-1976.
Daley wanted to develop the city's riverfront area, and in order to pinpoint where sewage was being dumped into the water, he authorized pouring a special green dye into the river.
In 1962 the entire river was turned green to celebrate St. Patrick's Day.
In 1966 powdered, a top-secret vegetable-based dye replaced the oil-based fluorescein that environmentalists thought was damaging the river.
The river stays green for about five hours.