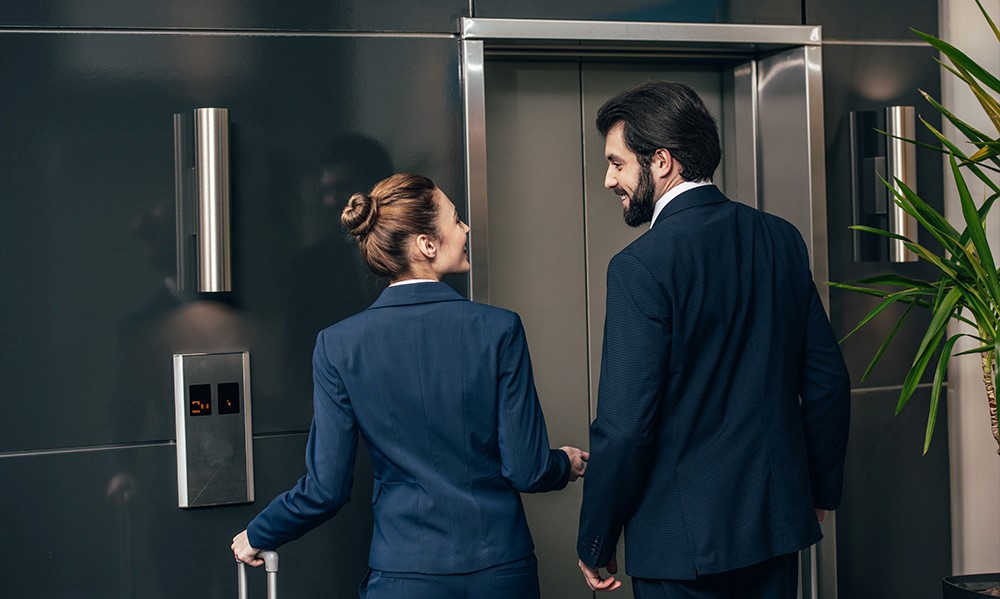 National Talk in an Elevator Day Icebreaker
National Talk in an Elevator Day is tomorrow, July 27. It's a day designed to encourage people to break the awkward silence that happens between people riding in an elevator.
I'm not sure why most people are silent while in an elevator. I sometimes wonder if they're running mental pictures in their head of the day ahead or preparing themselves to see John McClane when the door opens, or perhaps — like me — praying the doors do open (mildly claustrophobic!). It could be that they really don't know what to say, so instead they nod their head (only slightly) or mumble a few words resembling a greeting of some kind.
If that's the case, a little practice beforehand can help. Enter the elevator pitch. An elevator pitch only has to be from 25 to 30 seconds long — the time span of most elevator rides (unless you're on the elevator in the AngloGold Ashanti's Mponeng Gold Mine in South Africa, which — according to the Guinness Book of World Records — is a 2,283 m (7,490 ft) drop. At speeds of up to 40 mph, it takes three minutes to descend to the bottom.)
Here's an Icebreaker Activity that we have used in some of our courses. Try this out today and be ready to meet some new people tomorrow as you celebrate National Talk in an Elevator Day. You never know — you could start a life-long friendship or a solid business relationship!
Icebreaker: Elevator Pitch
Purpose
In this activity, you will challenge participants to come up with a different way to introduce themselves, just as if they were working with a marketing company.
Activity
Have participants work individually. You can provide them with a large sticky note (8 x 10 inch size), or a half sheet of flip chart paper so they can write out their statement in big bold fashion. Have them work on a tag line or phrase that offers a catchy introduction to themselves, just as if they were the business. They have just 15 to 30 seconds to deliver their pitch, so they'll need to write concisely.
Here are some examples that you can provide:
My name is Michael Stinson, and my company is called WonderMate. We make tough, durable solar panels that make the world lighter, brighter, and more beautiful.
My name is Andrea Myroniuk, and my company is called ReHolder. We make collapsible frames that allow you to secure a large plastic bag. The bag will stay upright so it's easy to fill. It's also easy to remove and take to the curb for recycling pick-up.
My name is Melissa McEnruig and I enjoy reading books, long walks on the beach and coding in Python. My favorite NFL Team is the Pittsburgh Steelers and I love camping, fishing and hunting.
Debrief
Have the group share their statements. This should help participants to get to know one another and their businesses.