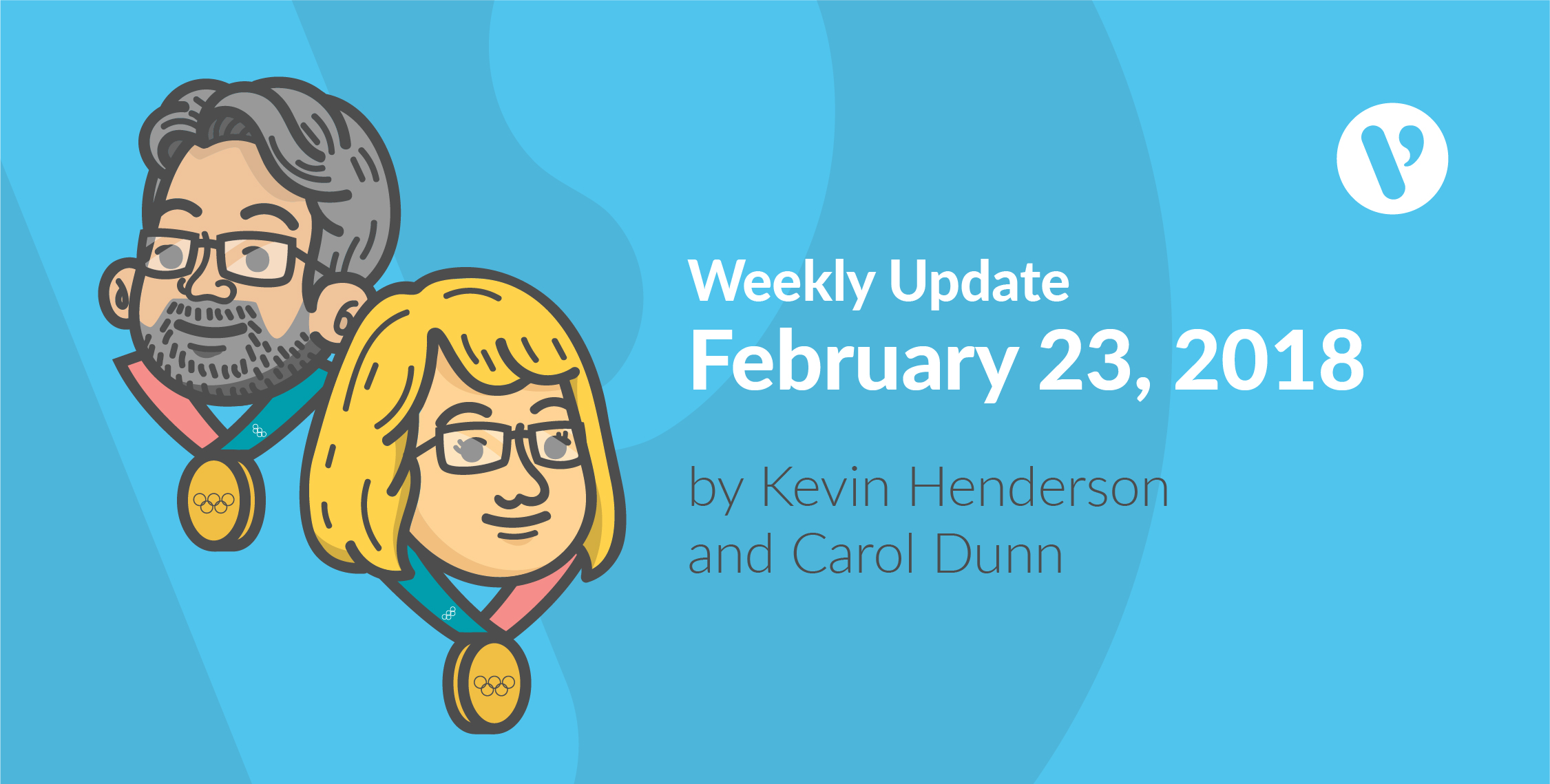 Olympic Team 2024 Paris!
Two weeks ago, I outlined the Olympic sports that the various Velsoft Head Office personnel could compete in at the Winter Games, which will wrap up for 2018 in PyeongChang on Sunday. Well, I received a great deal of flack from my picks. As a result, I have rethought my choices and have decided on the Olympic team we can send to the 2024 games in Paris. (It will take that long and a great deal of lobbying to get these sports into the Olympics!) The roles chosen were based on people's skills and inclination. I hope these are more to everyone's liking!
| | | |
| --- | --- | --- |
| Mission Lead | Sandra | Someone's got to make sure there's enough money to get back home at the end of the games. |
| Team Psychologist | Cindy | This team will definitely need her help! |
| Speed Coding | Ian | I watch him coding and it's a blur — definite gold medal. |
| Lumberjacking | Ben | Ben, red-checkered shirt, jeans — you see it, don't you? |
| Calf roping | Jan | Once again, the only one with a calf! |
| Quiet curling | Sydney | Hurry hard, but quietly. |
| Quidditch | Jim | Always the Seeker. |
| Web Surfing | Nathan | Lanky, tall and looks like a Californian! Just saying. |
| T-shirt toss | Dylan | Knows where to get the t-shirts. |
| Armchair hockey | Carol | Ski jumping was too athletic, and cheering for (yelling at) at the hockey players is her real passion! |
| Ultimate Hide and Seek | Marty | Marty set a record as an amateur — four years and 16 days before anybody found him. |
| Hobbit Heptathlon | Michael | Quoits, Dart-throwing, Bowls, Ninepins, Shooting at the Wand, Wrestling and Golf. |
| Dragon Fire Jumping | Dave | With his height, 49-inch vertical and love of Game of Thrones — a natural. |
| Rocking Chair Marathon | Scott | Curling required standing up, sitting would be much better. |
| League of Legends | Brandon | Hey, it's a demonstration sport at the Asian Olympics! |
| Flonkerton | Glen | An office favorite. |
What's in the Pipeline:
Carol is still creating marketing content and editing custom work.
Jan is creating components for our March and April releases.
Kevin and Sydney are working on custom projects.
 Tech topics:
Work is in progress on badging.
Work is in progress on a career path feature.
Course Count:
Courses released this month:
Here is the official count of courses for both courseware and eLearning, broken down by Computer and SoftSkills.
| | | | |
| --- | --- | --- | --- |
| | Computer | SoftSkills | Total Courses |
| Courseware | 277 | 166 | 443 |
| eLearning | 879 | 164 | 1043 |
Did you know…
A precursor to the Winter Olympics, the Nordic Games were organized in Stockholm, Sweden in 1901, 1903, 1905 and then every fourth year until 1926.
Figure skating was added to the 1908 Summer Olympics in London, although the competition was not actually held until October, about three months after the other events concluded.
The 1920 Summer Olympics in Antwerp, Belgium featured figure skating and an ice hockey tournament.
The first Winter Olympics were held in Chamonix, France in 1924.
The original five Winter Olympics sports (broken into nine disciplines) were bobsleigh, curling, ice hockey, Nordic skiing (consisting of the disciplines military patrol, cross-country skiing, Nordic combined, and ski jumping), and skating (consisting of the disciplines figure skating and speed skating).
The 1956 Winter Olympics in Cortina d'Ampezzo was the first winter games to be televised, and the first Olympics ever broadcast to an international audience.
St. Moritz, Switzerland became the first city to host a Winter Olympics twice. Lake Placid and Innsbruck have also each hosted twice.
The opening and closing ceremonies of the 1960 Olympics held in Squaw Valley, California were produced by Walt Disney. It was the first Winter Olympics with a dedicated athletes village, and the first to use a computer to tabulate results.
Although demonstration sports were officially dropped from the Olympics after 1992, the 2018 Olympics in PyeongChang featured an exhibition snow volleyball match.
Demonstration sports at the Winter Olympics have included bandy (similar to hockey but played with a ball), ski ballet (like figure skating on skis), skijoring (a person on skis pulled by a horse), speed skiing (skiing downhill in a straight line as fast as possible), winter pentathlon (cross-country skiing, shooting, downhill skiing, fencing, horseback riding), and sled-dog racing.