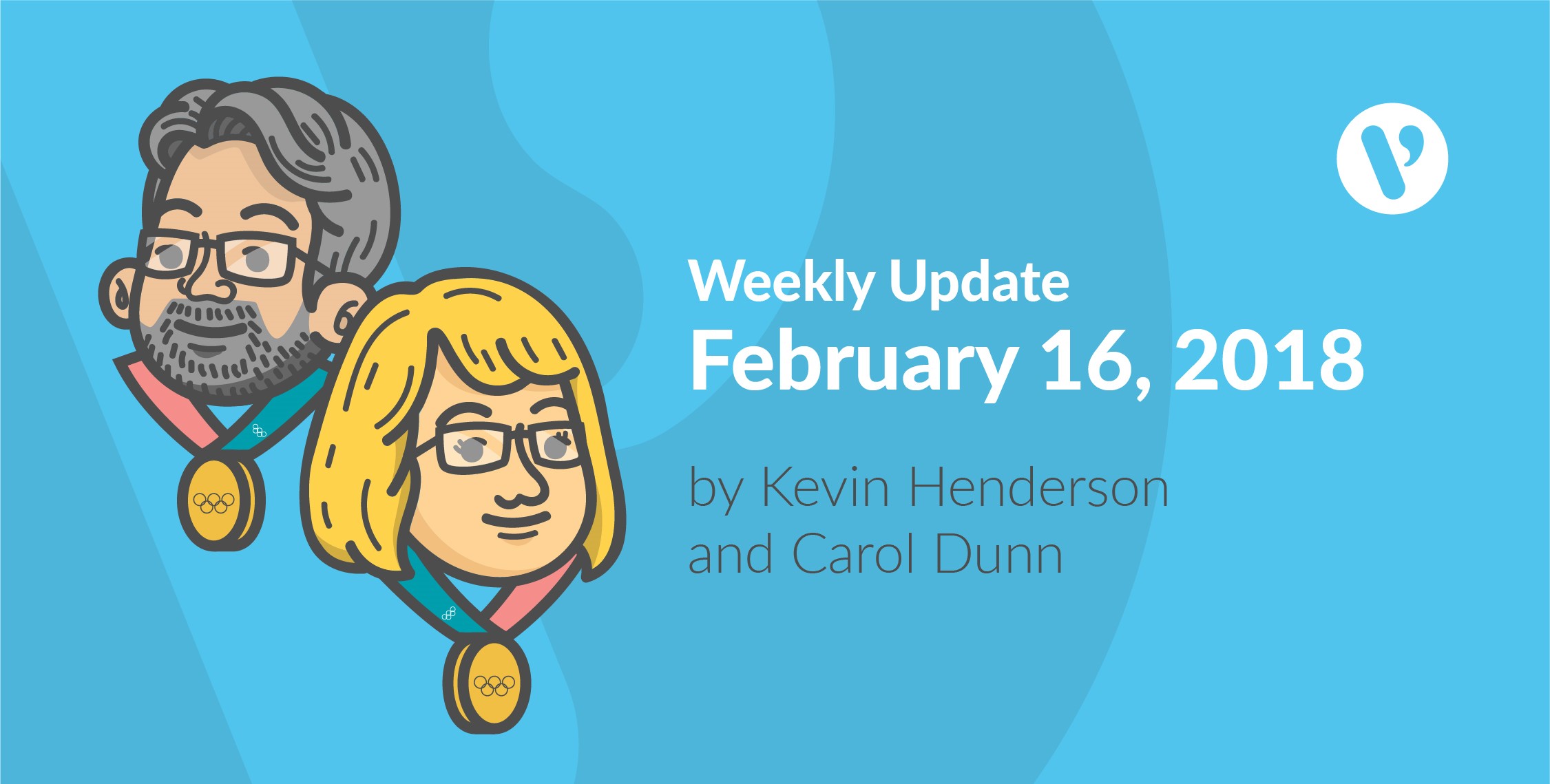 Olympic inspiration
What great moments do you remember from past Winter Olympic Games?
Several specific instances stick in my mind, and like me, they're Canadian as well:
Brad Gushue talking to his mother (who wasn't able to attend the Olympics as she was battling cancer) on a mobile phone while still on the curling rink after winning the gold medal in 2006.
The Canadian women's hockey team being down two goals and scoring twice in the final minutes of the championship game to tie, and then scoring in overtime to win the gold medal in 2014.
And of course, Sidney Crosby's 2010 golden goal shot through the five-hole of the American goalie in overtime, after the U.S. tied the game with only 24 seconds left in the third period.
These are all exciting moments in Canada's Olympic history, but what really resonates with me about the Olympics are the stories of triumph and overcoming adversity that come from the Games.
I get tears in my eyes every time I think of Joannie Rochette, the Canadian figure skater who competed at the 2010 Vancouver games just two days after her mother Therese died suddenly after experiencing a massive heart attack. In tribute to her mother, Rochette skated to a bronze medal win while dealing with the shock and grief of her mother's passing. The 24-year-old showed such tremendous courage and strength.
The PyeongChang Olympics that are taking place now until Feb. 25 have already produced two truly inspiring stories from Canada.
Snowboarder Mark McMorris almost died when he suffered numerous injuries last March after crashing into a tree in the back country near Whistler, B.C., and in less than a year was able to recover from his injuries and win a bronze medal in slope style in Korea.
He suffered a fractured jaw, broken left arm, a ruptured spleen, a pelvis fracture, broken ribs and a collapsed lung in the accident, and then endured grueling months of physiotherapy to be able to compete again.
After his win, McMorris said: "I'm on the podium and I probably shouldn't even be here. So I'm pretty stoked." And he sent a Tweet that said: "Thank You Life," with emojis of praying hands and a heart.
In an interview with SportsNet, he spoke about his lowest point. "That sucked, because it's just from one stupid mistake, and I wish I could take it back every day of my life. But I don't know. Maybe it made me a better person, or stronger. Maybe it helps people get through things, too."
Speed skater Denny Morrison, who finished 13th in the long-track 1,500-metre race in PyeongChang, after not one — but two — brushes with death, has expressed similar sentiments.
A 2015 motorcycle accident left him with a broken right femur, a punctured lung, a torn ACL in knee, a bruised liver and kidneys, and a fractured bone near his spine. After recovering from the accident, he suffered a stroke in 2016.
"Everything in my body can be broken, but my spirit won't be broken," he told SportsNet.
As he told CBC Sports, when he experienced setbacks and negative thoughts during his rehabilitation, he would think of fellow stroke survivors. "I saw how hard they're working and realized, I'm lucky, I'm still here, I had such a mild stroke. It inspires me. How can I not keep going?"
Morrison said he has received messages from stroke survivors saying his success on the ice motivates them. "If what I'm doing is inspiring people, then that's what this is about," he told CBC.
Just getting back on the ice was a winning moment for Morrison.
I can't wait to see what stories unfold during the final week of the 2018 Olympics, and I will continue to take inspiration from these athletes: No matter what life throws at you —never give up.
What's in the Pipeline:
Carol is still creating marketing content and editing custom work.
Jan is creating components for our March releases.
Kevin and Sydney are working on custom projects.
Tech topics:
Work is in progress on badging
Work is in progress on a career path feature.
Fixed an issue where adding a folder may not have worked properly.
Courses released this month:
Here is the official count of courses for both courseware and eLearning, broken down by Computer and SoftSkills.
| | | | |
| --- | --- | --- | --- |
| | Computer | SoftSkills | Total Courses |
| Courseware | 277 | 166 | 443 |
| eLearning | 879 | 164 | 1043 |
Fun facts about the 2018 Winter Olympic Games:
The spelling of PyeongChang was changed for the Olympics to avoid confusion with North Korea's capital, Pyongyang by capitalizing the C. The PyeongChang resort is just 50 miles south of the demilitarized zone that separates the two countries.
High-speed rail lines were developed to allow travel from Seoul to the isolated PyeongChang in less than an hour.
PeongChang is the smallest city to host the Winter Olympic Games since 1994, and is expected to be the coldest Winter Olympics site since Norway in 1994.
A pentagonal, 35,000 seat Olympic stadium was created for the games. It will only be used for the opening and closing ceremonies and will be torn down after the games.
The Mascots for the 2018 Winter Olympics are Soohorang (White tiger) and Bandabi (Black bear). Soohorang has been considered as Korea's guardian animal. "Sooho" means protection in Korean and "Rang" has been derived from a Korean word for tiger. Bandabi or the Asiatic black bear is a bear with a half-moon mark on the chest. It symbolizes strong will-power and valor in Korean folklore. "Banda" has been derived from a Korean word for half-moon and "Bi" stands for celebration of the games.
The Pyeongchang Olympic Emblem symbolizes harmony. It comprises five colors, namely, yellow, green, blue, red and black. The colors are based on the motif of the Olympic ring and Korea's five cardinal colors.
The 2018 medals are the heaviest in history (gold, 1.29 pounds; silver, 1.28 pounds; bronze, 1.09 pounds). The front of each medal features the Olympic rings logo and diagonal lines symbolizing discipline and determination; the back features the emblem for the games and the name of each event. The teal-and-red ribbon is a traditional textile embroidered with patterns of the host country.
(Sources: CNN, Sports Aspire, U.S. News, Parade)